---
Super Flex Tri-Deck Finishing Mower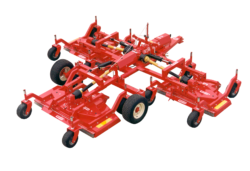 Like the Flex the Super Flex Tri-Deck mower has good ground contour capabilities, the 3 individual floating decks can tilt though 4 different planes. Folding is by hydraulic rams and a mechanical or hydraulic lock is available.  Large wheels carry the machine and its unique design allows the unit to be towed with great agility around obstacles. Anti-scalp rollers are fitted as standard.  Cutting heights from 25 – 125mm.
The Super Flex comes in sizes: 3.6, 4.5,  5.1 & 6m.
This unit is available with full road lighting, hydraulic folding is standard. Hydraulic deck lock release is optional. This unit is built in the USA where it is sold as part of the BEFCO range.  It is very strong and can cut as low as 23mm. It is very cheap to operate and very fast. The gear box is made with spiral gears which gives much more strength and increased life. The frame tyres and decks are all stronger then the 312 Flex. Which makes it ideal for council use where it might travel long distances on the road and meet some surprise debris in the cutting zone. Each deck is also fitted with a shear bolt to protect the gearbox and drive line, should any hard objects be encountered.
All this specification and the price is competitive too. It has to be worth a phone call.
---
Standard Specification includes:
Wide angle PTO shaft.
Extra heavy duty towing frame.
Transport wheels.
Adjustable deck wheel height.
Extra Wide Solid tyres.
Standard cutting blades.
Anti-scalp roller.
Rear discharge only.
Chain stone protection on rear of decks.
Mechanical deck locking latch.
---
Optional
Full road lighting kit.
High-lift blades.
Mulching Kit.
Hydraulic deck locking latch.