---
Cyclone C50 Finishing Mower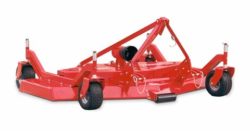 A heavier duty version of the Cyclone finishing mower, ideal for parks, golf courses etc. A superior fine cut finish.
Fits tractors from 20 – 50hp at 540 rpm
Available in widths 1.5m, 1.8m, 2.1m.
Weights 210, 245, 310kg respectively.
Cutting heights 25 – 125mm.
The gearboxes are built with cooling fins and the internal shafts are made of special steel. Special high wear belts are fitted to last many hours.
---
Standard Specification Includes:
Cutting widths: 4, 5, 6 & 7ft.
Cutting heights: from 1″ to 5″.
Choice of air or solid tyres.
Front & rear tractor mounting.
Highly engineered & rugged gearbox with cooling fins.
Spiral gears guarantee strength and quietness.
4 rubber swivel bearing wheels to guarantee a perfectly level cut.
Floating 3 point linkage, Cat. 1.
Stamped steel reinforced wheel arm for maintaining a consistent cutting height, attached by 8 bolts.
8 gauge reinforced mower deck.
Spindle shafts greased from the top for easy service.
Two heavy duty reinforced belts for long life.
Heavy duty, one piece, balanced steel pulleys.
Heavy duty shielded PTO shaft.
Stamped steel wheel yokes.
High blade tip speed.
Precise blade overlap.
Chain shielding standard on rear discharge mowers.
Optional equipment
---