The Professional Electric Driven Turf Sprayer
Cleveland have recognised that there is no high capacity, electrically driven, pedestrian sprayer on the market with a large tank. We know that sports turf managers and golf course superintendents are finding it increasingly difficult to apply products, where surface weight and subsequent compaction are of major concern.
Solution: The SprayBuggy M3 & M9
This unique self propelled electric vehicle can spray a green or sports pitch in no time. A 190lt tank as standard with options of a 3m, 4m or 5m boom. A boom shroud is available at 3m and 4m to offer a full covered boom system. We have a very simple calibration chart which allows the operator to set the predetermined pressure and the preset speed means the exact amount is applied accurately. Foam markers and a remote control feature are also an option.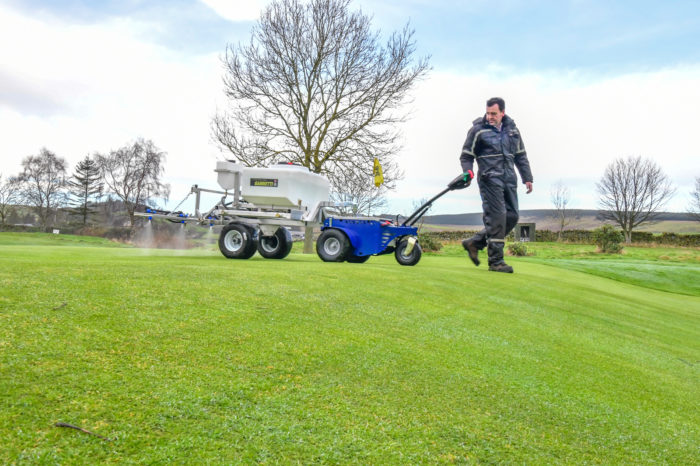 Specification: SPRAYBUGGY M3

Spraybuggy M3 Pedestrian version
Strong steel frame for vehicle.
Motor driven rear axle with differential.
Pneumatic tyres.
Ignition key and control panel.
Variable speed control with forward and reverse.
Very maneuverable.
Tow hitch.
6 hours continuous operation on one charge.
Aluminium sprayer frame.
190lt or 375lt tank.
Filtration.
Electric pump with tank agitation.
Aluminium 3m folding boom with break back feature.
Pneumatic low ground pressure tyres on bearing axle.
Onsite Installation by Cleveland staff.
Options
SMA100 375lt tank version.
GBAM10 Foam Marker.
15021 Shrouded covers for 3m & 4m boom only.
BK12T 4m boom instead of 3m boom.
15349 5m boom instead of 3m boom.
Pump upgrade for higher volume rates.
HR201R Hose reel (15m max) auto retractable & lance.
M9SMA50 Upgrade to M9 Fully Remote control version.